The Honda HF Ride On Mower Range
The Honda HF Ride On Mower Range
The Honda HF Ride On Mower Range
Do you have a large area of grass that needs to be mowed regularly? Make your life easier with the Honda HF ride on mower range. The many exceptional features of this range come together to further strengthen Honda's superb reputation for high quality materials and durability through superior engineering.
This range really showcases Honda's futuristic features, however, some features can prove to be more difficult to fully understand. The team here at ISE Forest and Garden always strive to provide our customers with the latest product knowledge. We hope to make these interesting features more accessible and easier for you to understand.
The Honda HF range is fully equipped with the most advanced features
These Honda HF models are extremely advanced and fully equipped with the latest technology such as LED headlights, a fully electronic LED dashboard, a USB charging port and a device holder. When choosing a model from the HF range it is important to choose according to your needs in terms of the area you intend to mow and the overall maneuverability you require.
You will spend a considerable amount of time using your Honda ride on mower from one year to the next so a distinguishing feature on these HF models is the comfortable and adjustable seat. The ergonomically designed seat is easy to get in and out of while the armrests add that extra level of comfort to the mowing experience. Any operator can achieve maximum comfort by adjusting the seat with the side lever. Even the steering wheel has a soft grip. These added comfort features show the luxuriously high quality of Honda's engineering.
In terms of maneuverability, the tight turning circle is important in order to maneuver around tighter areas such as slopes, corners and rough terrain. All our HF models have a tight turning radius, meaning it can get in and out of those more narrow spots.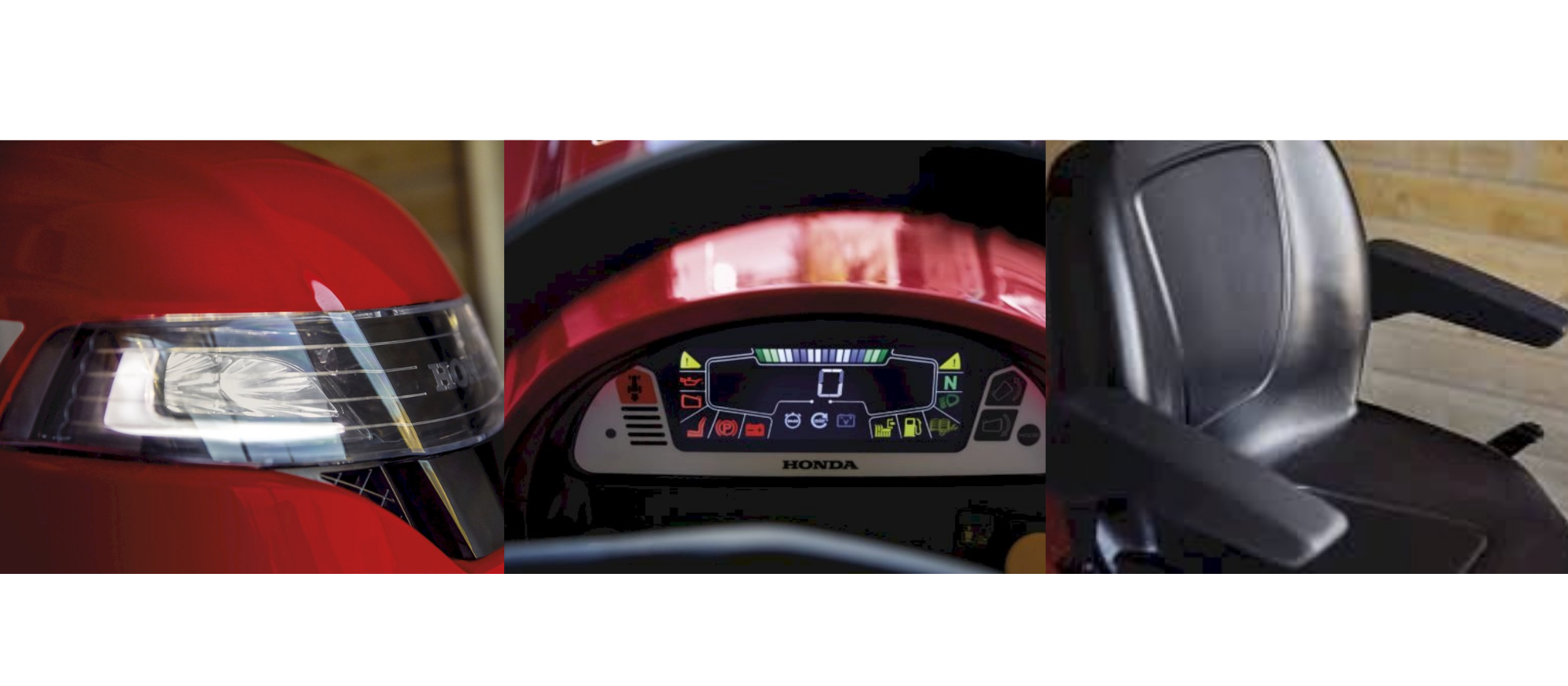 Grass collection, the Optiflow system & Versamow selective mulching

Honda have showcased their advanced research and development engineering with the Optiflow grass collection system. A simple explanation is that this unique technology uses twin fans fitted to the mowing deck to blow grass into the bag to ensure the grass bag is completely full, this is especially useful with Irish grass conditions.
This unique airflow system allows the user to cover a much larger space prior to the Grass full indicator flashing while also reducing the accumulation of dust. This Optiflow system is particularly suited to Irish grass which can often be thick and damp due to our weather conditions.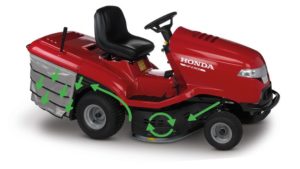 The Grass bag capacity of these HF models varies according to each model. For example, the HF2317 uses a grass bag of 280 litres, whereas, the larger HF2625 model uses a grass bag of 350 litres. This means the HF2625 can cover more ground and cut for a much longer period of time without having to empty the bag.
The audible grass full indicator is a useful feature as your Honda mower will inform you to empty your grass bag when it fills.
In addition to this, there is a range of 7 adjustable height cutting options which range from 30cm - 70cm. The Honda HF really is a range which can be completely tailored to the individual's needs in many different ways.
With the Versamow selective mulching you can now use the lever located beside the seat to choose between grass collection or mulching.
The grass chippings are finely shredded to act as a natural fertilizer and blown onto the lawn where it will fertilize the soil and create a bright and healthy lawn in the months to follow. The Versamow selective mulching is patented Honda technology.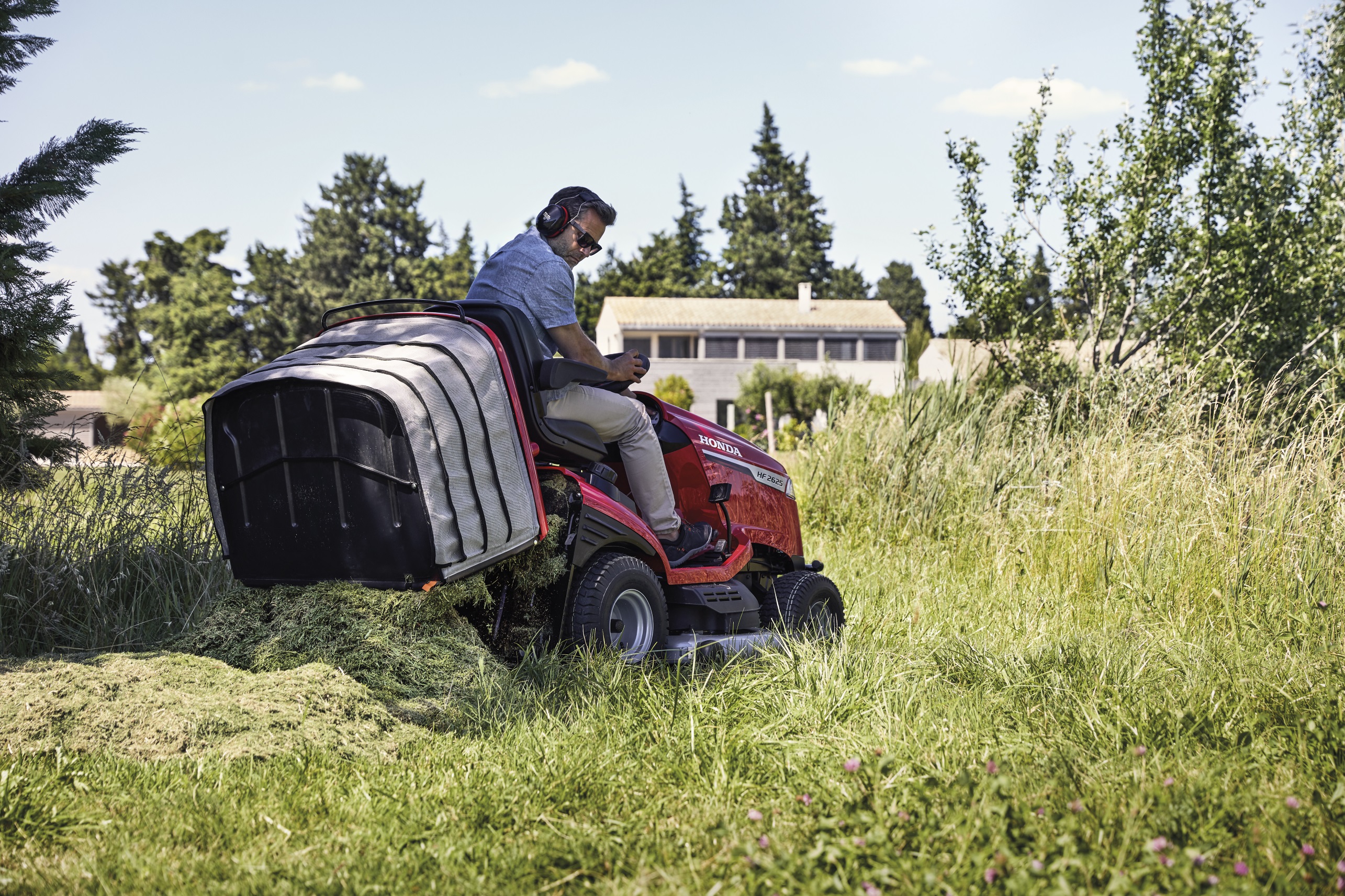 With advanced technology like this the Honda HF ride on mower range can tackle any grass condition and will collect grass even in damp conditions with fantastic results
Reliability & power from Honda's V-twin engine technology

Honda's V-twin engines are some of the best engines available in terms of longevity, performance and reliability. This is a direct result of high quality materials such as cast iron cylinder sleeves and crankshaft bearings.
These engines exhibit reliable power and will provide a smooth experience even over rough terrain. A Top tip from our experts is to carry out regular engine checks and have it serviced annually.

Honda's Roto-stop system

All of the Honda HF ride on mowers are equipped with the Roto-stop system. A yellow button on the mower dash allows you to easily start or stop the blades in a quick and safe manner.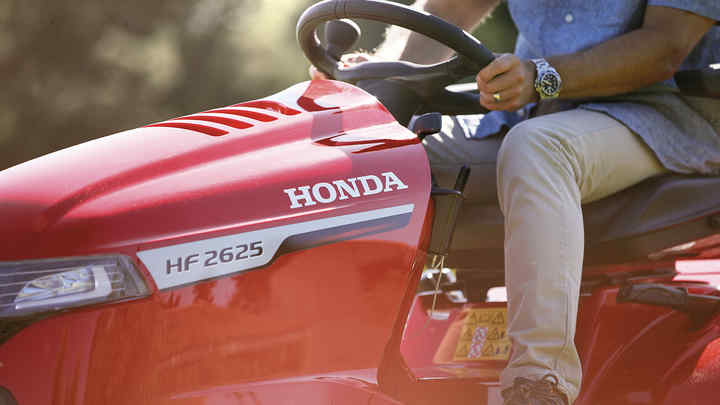 A word from the ISE Team:

Here at ISE Forest and Garden we care about the safety of each and every one of our customers. We ask our customers to always be aware of the safety features of Honda ride on mowers. Keeping your machine well maintained and clean will majorly increase its longevity. A hosepipe nozzle attachment is a feature in the HF range which will allow you to wash any debris from the underside of your mower by running water through the blades as they spin.