Getting your mower ready for the Season.
Getting your mower ready for the Season.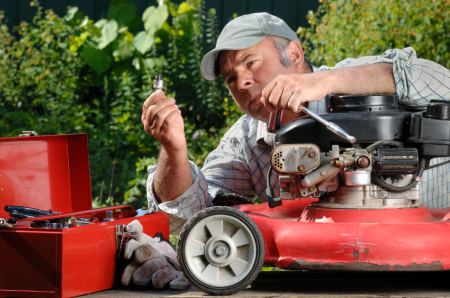 It's that time of year again where we begin to think about our lawns, gardens and the maintenance that comes along with them.
One of the first things you should be doing is to make sure your lawnmower is serviced, checked over and ready to go. This will save a lot of hassle than if you wait until the day you need the lawn cut and the mower decides to cough and splutter!

We can take care of all that for you but if you would like to give it a go yourself we have a couple of tips on basic servicing to get you started. We also supply all the parts you need for a D.I.Y job.
*Disconnect the spark plug lead before you attempt any work on a lawnmower. This will prevent any accidental starting.
1. Clean down the whole mower, being sure to remove all the grass from underneath the mowing deck. This will not only help prevent rust but will also let the mower do it's job better.
2. Top up / change oil. This one depends on how long it has been since your last oil change. If it still looks nice and golden you can get away with a top up if the level is a bit low. If it's been over a year since you last changed it or if the oil looks black in colour you should drain it and replace.
3. Clean / replace air filter. If the air filter is not too dirty, just a blow off with some compressed air should do the trick. Replace if this doesn't clean sufficiently.
4. Replace the spark plug. We recommend replacing the spark plug annually. This is a cheap item which will improve your lawnmowers performance a lot.
5. Sharpen blade. Remove and sharpen the blade and while it's off now would be a good time to check for any damage to it. Be sure to tighten the blade properly when refitting.

6. Check all cables and grease where necessary.
7. Now is the time to start your lawnmower to make sure it is running ok. If it is, happy days.
If not, call us or drop in-store and we can help get you back mowing again!
Tags: how to service a lawnmower lawnmower service in kilkenny lawnmower repair shop