Lawn Stripping Using Hayter Walk Behind & Simplicity Ride On Lawnmowers
Lawn Stripping Using Hayter Walk Behind & Simplicity Ride On Lawnmowers
Lawn Stripping Using Hayter Walk Behind & Simplicity Ride On Lawnmowers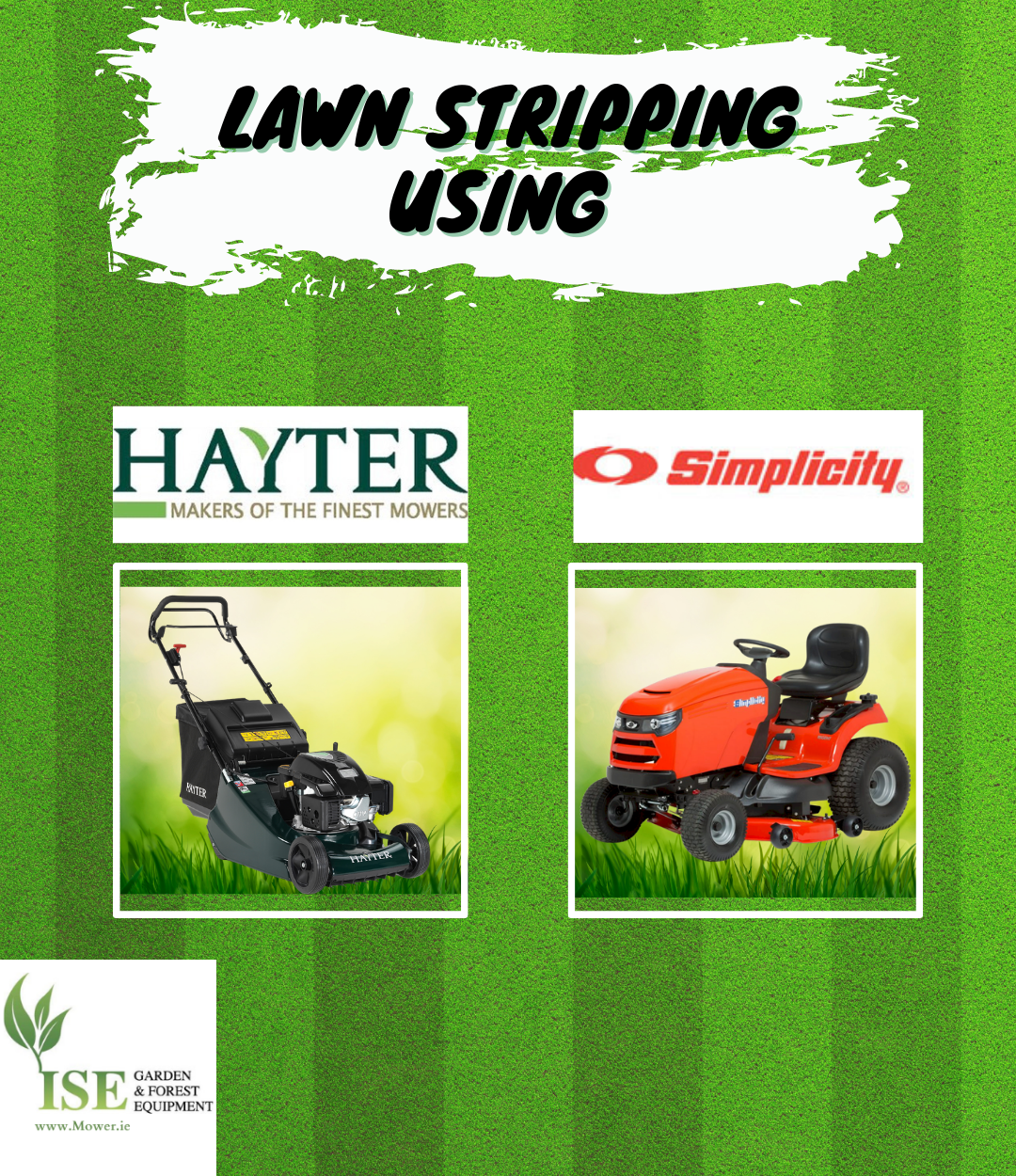 ---
Is the grass in your garden growing at an alarming rate? With the threat of rain in the coming week it will be long overdue a good cut. If you have been keeping a well-maintained lawn, perhaps you are looking to take it to the next level. You too can easily achieve the stripped lawn effect that you have only ever dreamed of.
What is lawn stripping?
The best machine for creating a striped lawn is a mower with an integrated rear roller. The right mower with a roller will flatten the grass in the same direction to create the well-defined stripes.
The reason the grass appears striped is because when it is cut, the blades of grass are flattened in different directions and so reflect the light differently. This gives the impression of stripped lines. The blades cut the grass and then the roller flattens the blades as it passes over, giving you the striped effect. A roller is crucial for creating stripes as it bends the grass in the desired direction. All you need to do is flatten the blades of grass in opposite directions and your lawn will be the envy of your neighbourhood.
The easiest way to achieve this uniformed look is to follow something that can give you a guideline for the first stripe.
Top Tip From Our Experts: If you want to mow perfectly straight lines we always recommend you look ahead instead of just in front of the mower. This will allow you to follow the straight pattern perfectly.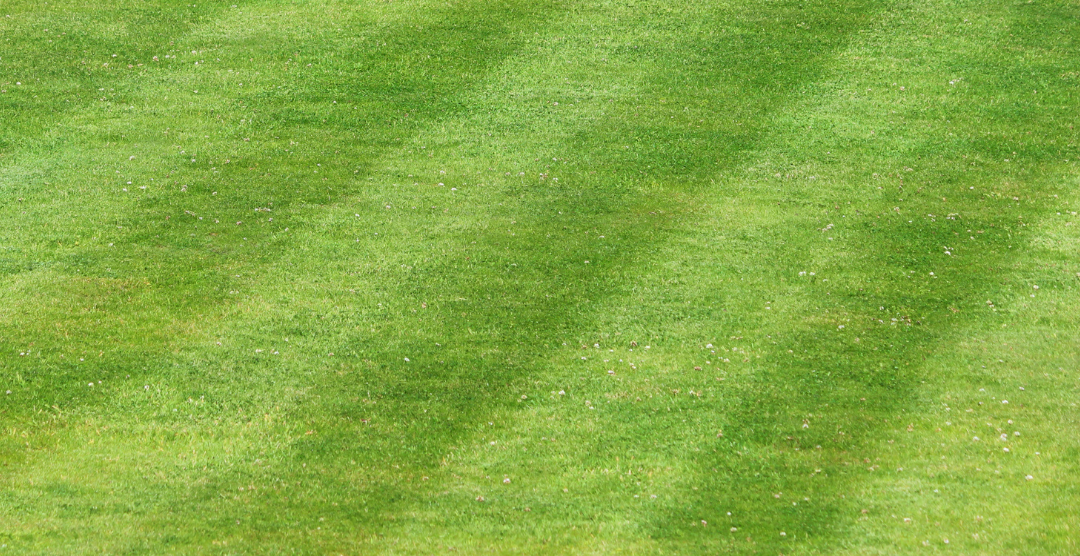 How to stripe your lawn
1. Create a plan
It is always a good idea to have somewhat of a plan in place. If your garden is irregularly shaped, you should pay close attention to corners and shorter sections. By creating a plan to work from you will know which direction to mow in.
2. Begin to mow
With your mower set to the highest height setting you can begin to mow around to edges of your garden to ensure you do not miss any spots along the edges.
You can then Line your mower up in the right direction and begin to mow your first row.
When you reach the end of the first line lift the blades of the mower and turn it around to position it for the next stripe.
Begin the second row by mowing using the roller to flatten the blades of grass.
A Top Tip From Our Experts: Cutting at a higher cutting height will give the grass more flexibility the bend and produce more uniform looking stripes.
3. Touch up
Intensify the look of the stripes by mowing over the rows once more. If you are using a roller you can also turn off the mower and use only the roller to flatten the grass further.
Top Tips For Lawn Stripes
Don't cut the grass too short:
The definition of the stripes relies on the blades of grass lying flat so cutting your stripes too short will take from that professional look. Cutting the grass while dry is also best practice.
Keep a healthy lawn:
Following on from our Product Of The Week on cutting off long grass, it is important to have patience. Mowing little and often by following the rule of thirds encourages healthy growth.
The sharper the blade the better:
Sharper blades will provide a cleaner cut as opposed to tearing the grass which will create a weak and unhealthy lawn in the long run. Use a strimmer for tight corners, or boxed off areas for a clean cut look.
Choose a high-quality Lawnmower:
To maintain a stripped lawn good self-propelled lawn mower might also be a wise investment, especially if you have a large lawn. Look for a mower which is easy to use and offers value for money with a product that will last.
Collect grass clippings:
Collecting the grass clippings will create a more uniformed look and will keep the focus on the stripped effect rather than the dead grass clippings. Empty the clipping box regularly to prevent the mower from clogging.
Choosing your lawnmower
Hayter Lawnmowers
If you are looking to achieve the perfect striped finish on your small to medium sized lawn, our range of Hayter 'Roller' Walk Behind Lawnmowers are the perfect choice for you. As these Hayter mowers are hand propelled, they are ideal for gardens which have obstacles that need to be mowed around. Users will find Hayter walk behind mowers comfortable to work with because of the comfort grip handles.
This Hayter mower range stands out amongst the crowd due to its robust alloy cutter deck which is built to increase strength and endurance. These Hayter models use a rear roller to allow for a smart stripped finish. The rear roller also adds extra stability to the mower as it gets extra close to the edges of your lawn and smooths out any imperfections.
Click here to view our range of Hayter petrol lawn mowers. These Hayter mowers come in a range of sizes, all equipped with rear rollers for classic lawn stripes.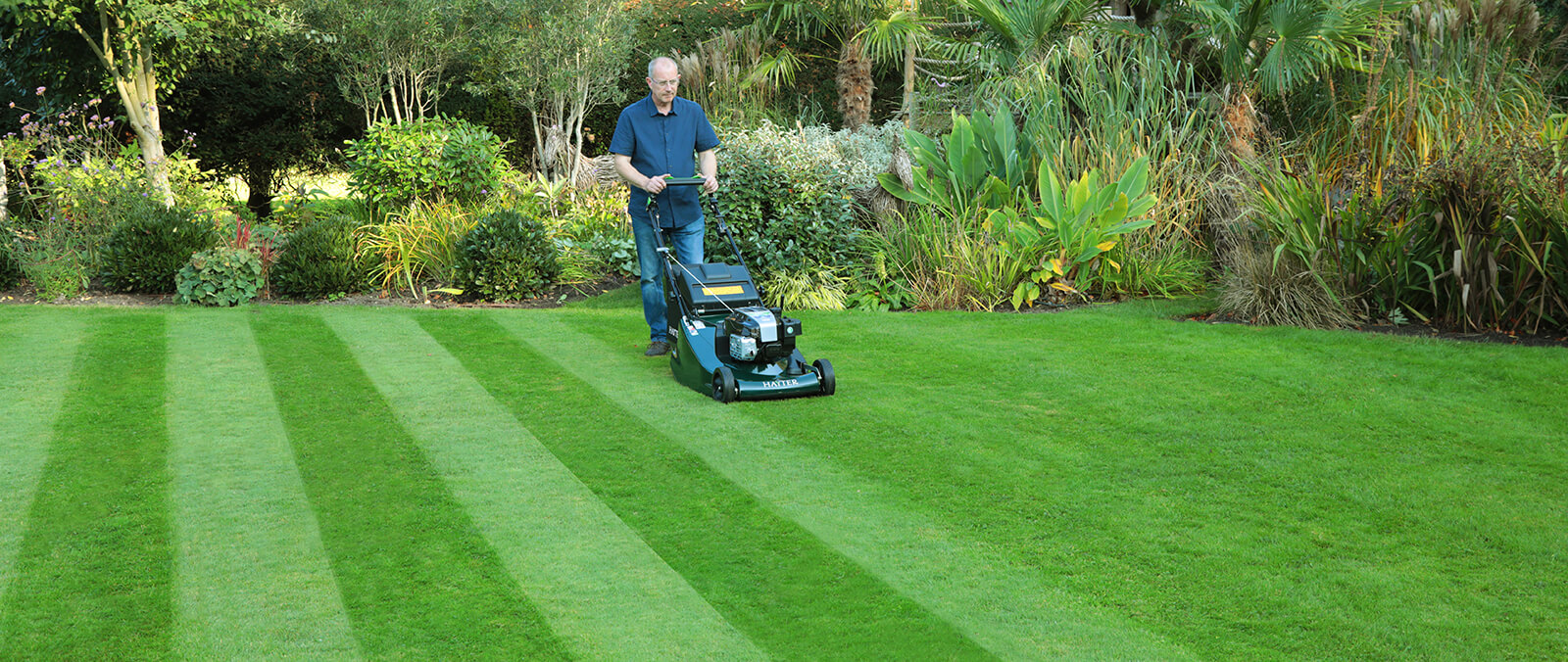 Simplicity Lawnmowers
Simplicity lawnmowers are built with the highest quality materials, so they can work even in difficult conditions. The Simplicity range is reliable and will withstand the test of time. It is important to match the mower's capabilities with your needs. If you are looking for a mower that will continue to work hard on your medium to large sized garden for many years to come, then Simplicity is the right choice for you.
You will find the Simplicity machines offer all the power you need to mow in all conditions. You can completely recreate your lawn and achieve a neat and tidy striped finish. With an impressive range of cutting heights, you will be able to tackle all kinds of lawns at various stages of growth. The max cutting height will make short work of any overgrown grass areas and give you the perfect results in all conditions.
As a highly reliable and reputable brand, Simplicity's rear rollers will always leave you with a lovely, neat, striped finish. Enjoy a powerful, reliable mowing experience with Simplicity.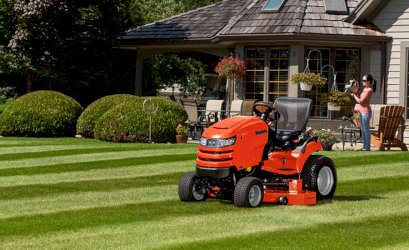 A Word From The ISE Team

Here at ISE Forest and Garden we care about the safety of each and every one of our customers. We ask our customers to always be aware of the safety features of your lawnmowers. As always, the team here at ISE Forest and Garden are here keep you well informed every week and we hope you are now well equipped with the knowledge you need to create the perfect stripped lawn.
Click below for more information:
Hayter 'Roller' walk behind lawnmowers

Simplicity ride on lawnmowers with Full Width Striping Rollers
Please note: All Simplicity ride on lawnmowers suitable for lawn stripping include "Full Width Striping Rollers" in the product title.

Tags: Lawn Stripping Using Hayter Walk Behind & Simplicity Ride On Lawnmowers , Hayter roller walk behind lawnmower , Hayter , Hayter lawnmowers , Simplicity Full Width Striping Rollers , Simplicity lawnmower , Simplicity , Simplicity roller ride on lawnmower , Lawn stripping , How to stripe your lawn , Top tips for lawn stripping , What is lawn stripping?